Winners 2010
EDWIN MORGAN INTERNATIONAL POETRY COMPETITION
Everyone associated with The Edwin Morgan Poetry Competition notes with great sadness the news of Eddie's passing on 19th August, 2010. A moving funeral celebration took place at the Bute Hall, Glasgow University on 26th August. Edwin Morgan continues to live in his poetry and through the many readers of his work. Visitors to this site who would like to leave a tribute to Eddie please click here.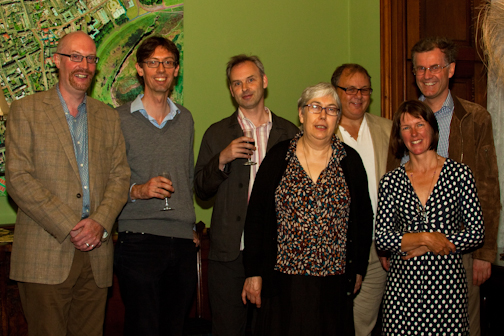 (back row, l-r: David Kinloch, Richard Lambert, A.B. Jackson, Nick MacKinnon, Robert Crawford; front row, l-r: Susan Grindley, Kathleen Jamie)
The prizewinners in the third Edwin Morgan International Poetry Competition were announced at the Edinburgh International Book Festival on 18th August, 2010. The competition, launched by Vital Synz and sponsored by the University of Strathclyde, is one of the richest poetry competitions in Britain and had the support of Edwin Morgan OBE, Scotland's national poet and one of the most prominent writers of the 20th century. The prizes were presented by competition judges Robert Crawford and Kathleen Jamie at a ceremony chaired by David Kinloch.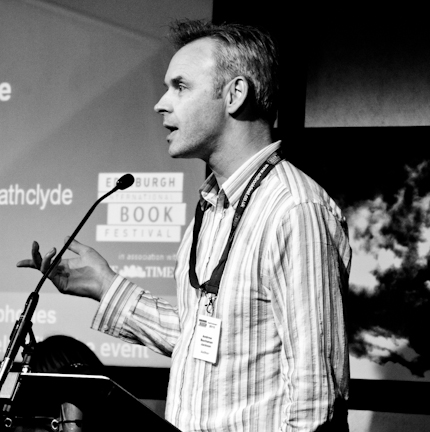 (1st Prize): A.B. Jackson - Treasure Island A.B. Jackson was born in Glasgow, raised in Cheshire and Fife, and studied English Literature at the University of Edinburgh. His first book, 'Fire Stations', was published by Anvil Press in 2003, and won the Forward Prize for Best First Collection that year. Donut Press will publish a limited edition pamphlet, 'Apocrypha', in October 2010. He works for the NHS in Glasgow. His website is at www.abjackson.co.uk
(2nd Prize):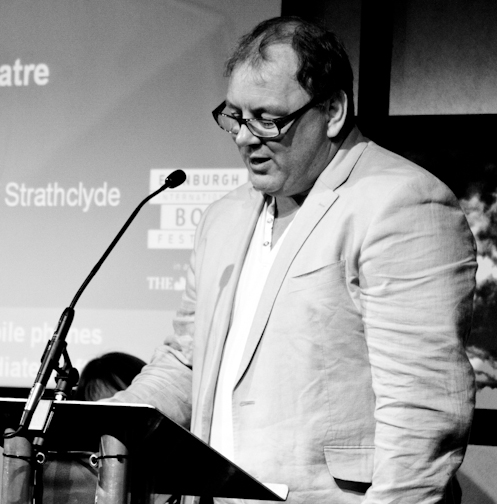 Nick MacKinnon - Prayer Nick MacKinnon is a teacher of Maths and English at Winchester College. He spent his teenage years in Ardrishaig on the long finger of land that points at Ireland which is made into an island by the Crinan canal. He was runner up in the 2009 Bridport Prize and a major prizewinner in the 2007 and 2008 McLellan Festivals and the 2009 Plough, Hippocrates and tall-lighthouse competitions. Further examples of his work are available at www.poetrypf.co.uk
(3rd Prize):
Marianne Burton - The Emperor and the Nightingale Marianne Burton was awarded a year's mentorship by the poetry magazine Smiths Knoll and the resulting pamphlet, The Devil's Cut, was a Poetry Book Society Choice. She has been widely published in the UK, US and South Africa, and earlier this year won second prize in the TLS poetry competition. Her first full collection is forthcoming from Seren.
(Runner-up):
Fiona Benson - Ilha de Moçambique Fiona Benson is an Anglo-Scottish writer who currently lives in Exeter with her husband James. Some of her work was anthologised in Addicted to Brightness and her pamphlet is Faber New Poets 1.
(Runner-up)
Abigail Curtis - The Occasional Keeper's Wife Abigail Curtis teaches at York St John University. Her poetry collection Unexpected Weather won Salt Publishing's Crashaw Prize and was published in 2009
(Highly Commended)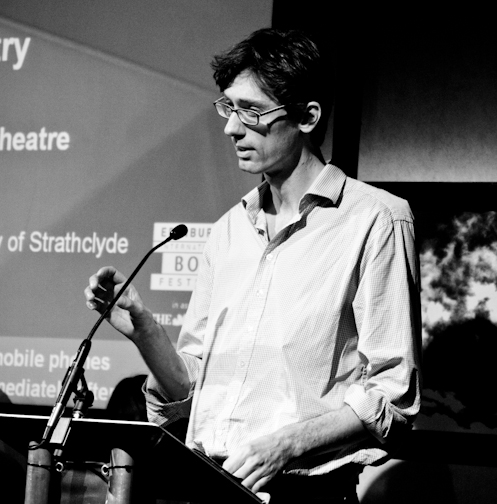 Richard Lambert - Ink Blots in a Hand-Made Book Richard Lambert was born in London. He has a poetry pamphlet, 'The Magnolia' published by The Rialto, and this year won first prize inthe Yorkshire Poetry Competition and in the Kent & Sussex Poetry Competition, and was runner-up in the Wigtown Poetry Competition. He is currently doing the MA in Creative Writing in Fiction at UEA.
(Highly Commended)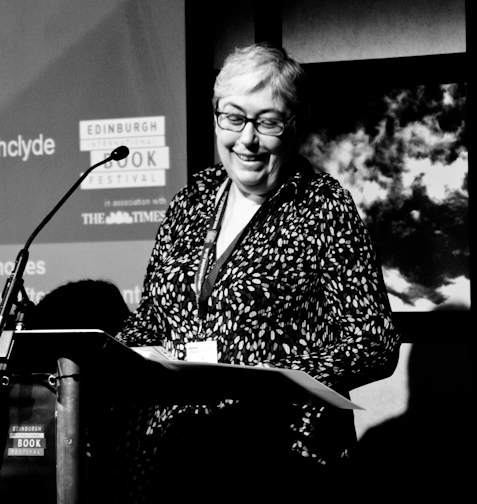 Susan Grindley - Paper Susan Grindley has had poems published in many online and printed magazines including Limelight, Nth Position, Magma and Rising and also in the anthology Gobby Deegan's Riposte, Donut Press, for which she wrote the title poem. She is a landscape architect and lives with her husband in Hackney, London.
---